If you want to use Instagram direct messages on Desktop, other than using it on your smartphone, there are a few several ways to do it on your desktop or laptop easily. The best thing is they are all entirely free to use.
Update: Now you can send and receive DMs via login to instagram.com/direct/inbox from your desktop. You won't need any third-party app to do this.
In this article, I've rounded up 3 ways for you to check and send Instagram DMs on your desktop!
Disclosure: Our website is reader-supported. If you purchase any service through our partner links, we may earn a commission at no extra cost to you.
1. Using Windows Instagram App
Thanks to Microsoft Store, There is an Instagram app for Windows 10 that supports direct messaging. You can simply get it by using the Microsoft Store on your Windows PC.
To do this, open the Microsoft Store and search for Instagram. Find the app and click "Get it".
Once you have owned it you can Install it by clicking "Install Button". Once it's completed, click Launch to sign in to Instagram.
Once you complete the installation, click the Instagram Direct icon in the top-right corner. It will show p all your DMs. That's it!
2. Using a Third-Party App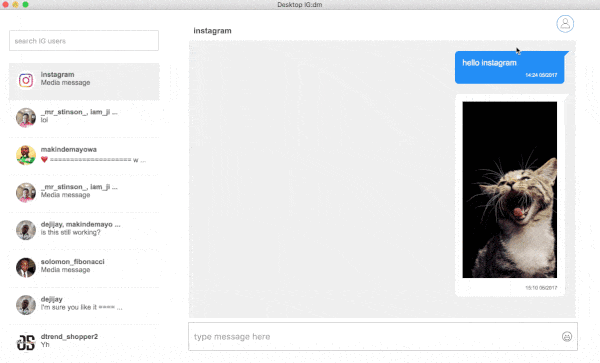 This simple desktop app can be used for Instagram Direct Messages on desktop. The IG:dm is an unofficial open-source free app for Instagram DMs with a basic interface where you can view and reply to your Instagram conversations easily by login with your Instagram account.
This simple app is available for Windows, Mac, and Linux operating systems and allows you to send image files and emojis as well. This very suitable for users who want to manage their accounts on a desktop, like Instagram influencers.
The free version of this app does a good job and there is pro version calls a IG:dm Pro available to use more features like multiple accounts, see up to 100 conversations, and Unsend Messages like in the mobile app.
3. Using a Chrome Extension
There is a bunch of extensions available for Instagram on Chrome web store. Some of those are working fine and some extension not at all.
However, there is a great chrome extension available for Instagram direct messaging and it has more than 300,000 users.
All you need to do is, go to the extension page and add it to Chrome. Once it installed you'll see the Instagram direct icon on the right top corner of your browser window.
Just click the extension icon and it will open Instagram like as on your mobile. it will same as an Instagram mobile version and also allows you to publish posts directly from your desktop PC!
Do More With Using Instagram Direct Messages on Desktop
Now you know that there are many ways to check your Instagram Direct Messages on desktop. However, if you're away from your phone, now you can use a desktop for your needs.
You can choose your preferred method to use it as much easier. However, the Chrome extension looks easier for me.
Must Read: 6 Best Instagram Marketing Tools
Don't forget to share this article with your followers!